Chimney not required - Emission-Free Fireplace!

Xaralyn

A fireplace is high on many wishlists. During the winter months, gathering with family around the fireplace, reliving memories. During Christmas, the gifts by the fireplace. A fireplace represents warmth and coziness and should actually be present in every home.
​While in the past, not every home could accommodate a fireplace, there are now solutions. A decorative fireplace with heating can be easily placed in an apartment or a house without a chimney.
A chimney or flue is intended to vent harmful smoke and fine particles from a fireplace. Bio-ethanol fireplaces or electric decorative fireplaces do not emit harmful smoke or fine particles. It's a conscious choice for cleaner and more cost-effective heating. A chimney or flue is not required for a decorative fireplace. This saves space and makes installing a fireplace much easier. You can place our fireplaces in almost any room. ​ ​ ​ ​
Want the feeling, ambiance, and warmth of a fireplace without a chimney? You can have it!
Xaralyn is a leader in the field of decorative fireplaces without a chimney. We offer an extensive collection of bio-ethanol and electric decorative fireplaces that fit well in both modern and traditional interiors. Xaralyn brings warmth into your home with the fireplace as the focal point, always striving for the perfect fire.
With our state-of-the-art production facilities, we can ensure this quality for our customers. Xaralyn fireplaces provide a solution for homes without a chimney. Since you don't use a flue, you can easily move them as well. The separate bio-ethanol burners with patented ceramic stones (ceramic burners) can be used in one of the mantels from Xaralyn's extensive collection or can be excellently placed in an existing fireplace. They can also be creatively applied in custom projects.
The perfect, clean alternative to a gas fireplace or wood stove!
Do you have a home without a chimney or exhaust and don't want to incur high costs to install one, but still want to enjoy a beautiful flame and pleasant warmth? Xaralyn offers a wide selection of bio-ethanol fireplaces, electric fireplaces, and electric water vapor fireplaces that do not require a flue or chimney.
Bioethanol Fireplace
A bio-ethanol fireplace is unique in design. Xaralyn offers bio-ethanol fireplaces in combination with a mantel, as a separate burner, or with a complete built-in unit for custom projects. A bio-ethanol fireplace can be used without an exhaust or chimney because the combustion of bio-ethanol does not produce dangerous substances. This allows for numerous possibilities for placing a bio-ethanol fireplace. A bio-ethanol fireplace is highly suitable for indoor use but can also be used outdoors on the terrace or balcony. Since no exhaust is required, you can easily move the fireplace to a new location or install it according to your own taste in a custom project.
Xaralyn's bioethanol fireplaces are made with a ceramic stone. This ceramic stone absorbs the bio-ethanol fuel and converts it into vapor. It's the bio-ethanol or alcohol vapor that we burn with a bioethanol burner. Thanks to the ceramic stone, the combustion is more economical and safer, as it seals off the burner, preventing the bioethanol fuel from leaking out. The combustion of bioethanol is entirely clean. However, it should be noted that adequate ventilation is necessary for each combustion to ensure proper burning.
Electric Fireplace
An electric fireplace brings the coziness and ambiance of a real fireplace into your home. An electric fireplace doesn't require an exhaust, making it very easy to install. Xaralyn offers various electric fireplaces in combination with a mantel, as a wall-mounted fireplace, or for custom-built projects. Create the atmosphere of a gas fireplace or pellet stove without the drawbacks!
The latest generation of Xaralyn electric fireplaces operates based on LED technology. All Xaralyn electric LED fireplaces have low energy consumption when used solely as decorative fireplaces. Most Xaralyn fireplaces can also be used as additional heating.
Electric Water Vapor Fireplace
An electric water vapor fireplace is a decorative electric fireplace manufactured by Xaralyn for use in combination with a Xaralyn mantel. A water vapor decorative fireplace operates based on water. An ultrasonic vaporizer evaporates the water in the tank. Thanks to a fan, this water vapor rises and becomes highly visible due to the built-in lights. The reflection of light on the rising water vapor creates the illusion of flames. ​
Choosing a fireplace without a flue is not only an economically sound choice but also an environmentally friendly one!

Why choose Xaralyn
​​​Our key points of focus


Safety and quality
are our top
priorities

Energy-efficient fireplaces and realistic flames

Fast delivery
from our
own stock

Custom
solutions
negotiable

Excellent customer service for all your questions
What are you looking for?

Choose a decorative fireplace

We provide you with personalized advice

Ask your questions to our experts
Step inside our showroom or visit our dealers and discover the warmth and coziness that will completely transform your home. Let yourself be inspired by our extensive range and find the perfect fireplace for your dream interior!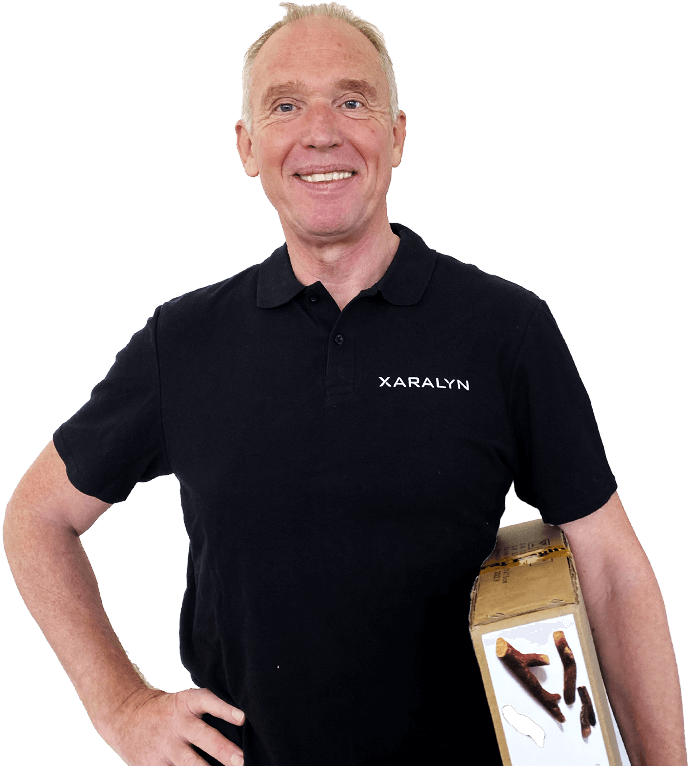 Try our bioethanol fireplace for free* for 30 days

We are eager to convince you of our Fire System!