​Energy-efficient electric fireplaces

No need for a chimney!
Combine ambiance and heating. An electric fireplace from Xaralyn is a beautiful and easy way to create the effect of a real fire. These fireplaces are not only decorative but also often come with a heating function.
Technology
The technology behind an electric Built-In Fireplace is based on light projection. Combined with logs that have a glowing effect, a highly realistic flame is produced. Most electric fireplaces have various settings for light and heat and come with a remote control.
An electric LED fireplace requires no maintenance. It's also ideal for supplemental heating. If the LED fireplace is used solely for decoration, the power consumption is negligible.
With the latest developments in electric LED fireplaces, the flames appear to come even more from the logs, making the logs look like they're really glowing. These types of electric fireplaces are referred to as 3D LED fireplaces.
An alternative to an electric LED fireplace is the projection of light onto water vapor. A water vapor fireplace creates a beautiful fire image but does require maintenance.
Advantages and disadvantages of an electric fireplace:
no need for a chimney

only requires an electrical outlet

no smoke, no odor, no fine particles

user-friendly

relatively inexpensive

not suitable as primary heating

no real fire (flame image)
Create your own electric fireplace

Step-by-step guide

​Choose your preferred application below
Choose your favorite
decorative fireplace

All our electric fireplaces

Choose a fireplace

Je dynamische snippet wordt hier weergegeven ... Dit bericht wordt weergegeven omdat je niet zowel een filter als een sjabloon hebt opgegeven om te gebruiken.

Why choose Xaralyn
Our key points of focus

Safety and quality are our top priorities
​


Energy-efficient fireplaces and realistic flames
Fast delivery from our own stock
Custom solutions negotiable
Excellent customer service for all your questions
FAQ about electric fireplaces
Read below
How does an electric fireplace work?
The electric fireplaces by Xaralyn are fitted with a glass panel, where the flame image is realized by a projection of light.
Once you have plugged in the fireplace it is ready for use. The electric fireplaces by Xaralyn are multifunctional. For example, you can regulate the heat and the flames as most fireplaces come with a remote control. Whether the fireplace of your choice is equipped with the relevant functions, please check out the description of the specific model in our collection electric fireplaces for more details.
How much power does an electric fireplace consume?
The power consumption of an electric LED fireplace depends entirely on which features you use. If you use the fireplace only for decoration then power consumption is approximately 10-15 Watt per hour, these costs are nil.
What is the heat output of an electric LED fireplace?
Xaralyn's electric fireplaces are designed to create ambiance and can be used as supplemental heating. Depending on the electric fireplace model, it can provide heat up to a maximum of 2000 watts. You can find the exact heat output of the fireplace of your choice in the specifications or user manual.
2000 watts is suitable for heating spaces up to 29m2. Xaralyn's electric fireplaces provide pleasant warmth in your home.
​We provide you with personalized advice

​​Ask your questions to our experts
Step inside our showroom or visit our dealers and discover the warmth and coziness that will completely transform your home. Let yourself be inspired by our extensive range and find the perfect fireplace for your dream interior!​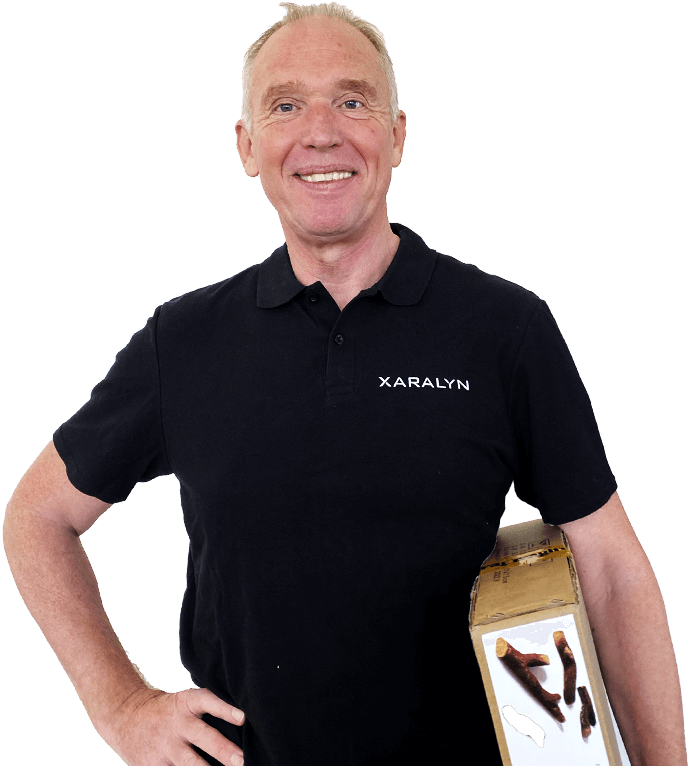 Our partners

Find a point of sale

Try our bioethanol fireplace for free* for 30 days

We are eager to convince you of our Fire System!