A fireplace without particulates and CO2 neutral

No harmful emissions released
A fireplace with real fire, environmentally friendly, and without a chimney. Bioethanol is essentially alcohol rendered unsuitable for consumption. Sometimes it's also referred to as bioalcohol. This alcohol is derived from the fermentation of plant residues. Burning alcohol does not release harmful emissions. A chimney is not necessary for a bioethanol fireplace, but adequate ventilation is required since a flame consumes oxygen. The larger the flame, the more oxygen it requires, thus requiring more ventilation.
Maintenance-free
​A bioethanol fireplace is not only environmentally friendly but also more cost-effective than a traditional wood stove or fireplace. Installing this type of fireplace is straightforward, and our bioethanol fireplace with a ceramic stone is maintenance-free.
Depending on your personal preference, you can choose from an existing piece of furniture with a built-in bioethanol fireplace or you can design something yourself (or have it designed). We have a suitable bioethanol fireplace for every situation.
Advantages and disadvantages of a bioethanol fireplace:
No chimney required

Can be placed almost anywhere

No smoke, no particulates

User-friendly

Relatively inexpensive

Real fire

Not suitable as a main heating source
Bouw de brander in

Al onze branders kunnen in eigen projecten ingebouwd worden. Hier hebben wij diverse oplossingen en afmetingen voor beschikbaar.

Create your own bioethanol fireplace

Step-by-step guide

​
Choose your preferred
application below
​
Choose your favorite
decorative fireplace
All our bioethanol fireplaces

Choose from

Je dynamische snippet wordt hier weergegeven ... Dit bericht wordt weergegeven omdat je niet zowel een filter als een sjabloon hebt opgegeven om te gebruiken.

Why choose Xaralyn
​​​Our key points of focus

Safety and quality are our top priorities
​


Energy-efficient fireplaces and realistic flames
Fast delivery from our own stock
Custom solutions negotiable
Excellent customer service for all your questions
FAQ about bioethanol fireplaces
Read below
What is a bioethanol burner with ceramic stone?
​
​​The Xaralyn bioethanol burner with patented ceramic stone is a revolutionary product, the safest open fire! The big difference between our bioethanol burner and other burners on the market is that the Xaralyn bioethanol burner contains a ceramic core that slowly absorbs the liquid fuel. This causes the burner to not burn pure bioethanol, but the harmless gas it releases, this makes the fire burn more gradually. The result is a safer and cleaner burner, which is easy to ignite and gives a beautiful consistent fire.
How long will a bioethanol burner burn?
A fully stocked bioethanol burner from Xaralyn will burn between 3-4 hours. Large burners can hold more bioethanol, the burning time is approximately similar.
Does bioethanol emit any smell?
Een verbranding van bio-ethanol geeft voornamelijk een geur af wanneer de bio-ethanol niet goed gefilterd is of uit (te veel) verschillende grondstoffen geproduceerd is. Ook is het alcoholpercentage van groot belang; des te lager het alcoholpercentage des te meer geur merkbaar zal zijn. Bio-ethanol met een lager percentage alcohol bevat een groter percentage toevoegingen, wat een minder zuivere verbranding tot stand brengt.
Geen enkele verbranding is compleet reukloos. De ene persoon neemt meer geur waar dan de ander. De combinatie van bio ethanol en de verdamping uit de absorberende keramische steen in de brander zorgt voor een zo zuiver mogelijke verbranding waardoor er een nauwelijks merkbare geur vrij komt.
Als een bio-ethanol brander met een keramische steen gedoofd wordt zal een eventuele geur wat sterker zijn.
​We provide you with personalized advice

​​Ask your questions to our experts
Step inside our showroom or visit our dealers and discover the warmth and coziness that will completely transform your home. Let yourself be inspired by our extensive range and find the perfect fireplace for your dream interior!​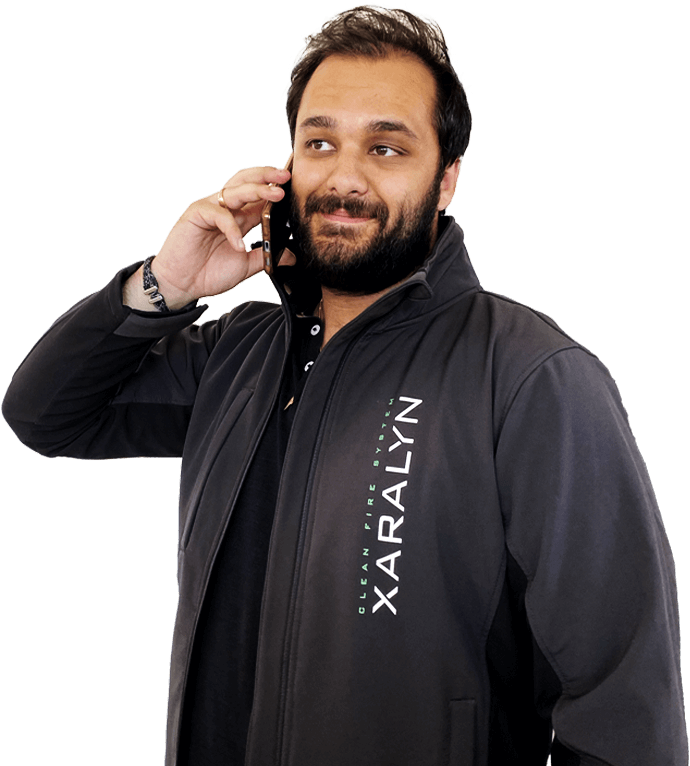 Our partners

Find a Point of Sale

Try our bioethanol fireplace for free* for 30 days

We are eager to convince you of our Fire System!